One could argue that Japan is famous for its insanely adorable figurines. We at J-Subculture totally agree. Japanese figurines are just so kawaii! One of the hottest mini figurines being sold in Japan is "Sonny Angel."
Who is Sonny Angel? As pictured above, Sonny Angel is a super cute, angelic little boy here to brighten your day and bring a smile to your face. He has soft, ivory-toned skin, with a sweet smile and deep brown angel eyes. He always wears different kinds of charming headgear and hats. He has a wide variety of favorite hats, such as vegetable hats, dessert hats, animal hats, and more! On his back, there is always a pair of tiny white angel wings.
Each Sonny Angel is full of tender loving care. Through their colorful hats, you can imagine many personalities for them. You can collect Sonny Angels and place them wherever you'd like! You'd be surprised to find that Sonny Angel will be there for you when you least expect it. He'll be your new angelic friend! Who wouldn't want Sonny Angel as a friend after seeing how adorable he is?
Aren't they just sooooo cute? The sad part about Sonny Angels is that you aren't able to choose the one you'd like. :-( They come in individual mystery boxes, so you'll never know which Sonny Angel you'll get. However, through J-Subculture's auctions, you'll get the chance to bid for your own precious Sonny Angel of your choice! :-D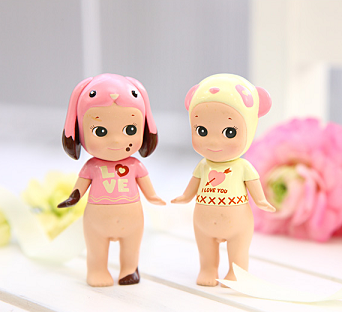 This year marks the 12th anniversary of Sonny Angel, so don't hesitate to bid for your own adorable Sonny Angel today, right here at J-Subculture! You may get a rare angelic friend :-)