Calling out to all cat lovers on J-Subculture! If you call yourself a true cat lover, then you've probably played the Japanese game called, "Neko Atsume" (ねこあつめ), or "Kitty Collector" in English. If you've never seen or played it before, you can find pics of it on Twitter and Instagram through the hashtag #nekoatsume since it's overwhemingly popular. Yutaka Takasaki, who works for the Japanese company Hit-Point Co., Ltd, developed this free-to-play game and released it for Android and iOS two years ago on October 20th. However, it is still increasingly gathering the attention of crowds around the world who are fans of cats, especially beyond Japan.You don't have to be fluent in Japanese or a hard-core gamer to enjoy Neko Atsume. There's currently an English version of the game avaliable and it's practically child's play. Check out its adorableness:
Just look at them! They're lovable, pocket-sized cats with angelic expressions and playful demeanors! The objective of this game is pretty simple--all you have to do is collect and take care of these stray cats. (Note that they're strays, so be sure to give them extra TLC!) You can collect up to 53 cats so far. Just leave some stuff in your home like furniture, toys, and food. Then...
they'll start popping up one by one and fill your once empty home into a cat paradise!
As mentioned above, there are many cats avaliable for you to collect and care for. Most of their designs resemble cats that we have here in real life. On the other hand, there are rare and special kinds of cats that are pretty difficult to collect. You'll have to be a true cat lover to be able to collect them. Every cat also comes with its own cutesy name.
From the research we've done here at J-Subculture, we've come across one cat that has both fans and enemies. Introducing Tubbs the cat, or まんぞくさん (Manzoku-san) in Japanese. Tubbs is considered to be one of the most famous cat characters from Neko Atsume! It's chubby (tubby?) and lazy, lying around asleep or eating something. It's really laidback and always wears a peaceful expression. On the downside, it steals and gobbles up all the food you leave for it and other cats, so your other cats won't be able to have their own meals. That's probably why some people rant on Tubbs and call it a savage. But how can someone get mad at this super kawaii cat?
Besides Tubbs, there are so many other cats to fall in love with. We have various Neko Atsume goods here at J-Subculture up on auction. One of the more popular merchandise to bid on are the stuffed animals of Neko Atsume cats.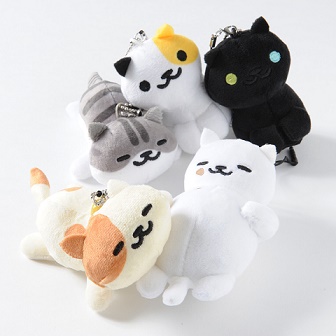 If you want to be a kitty collector beyond the screen, these goods are just right for you! Don't hestitate, and just bid away here at J-Subculture! The cats are waiting for you!