Have you heard of Glico before? I bet you have if you're a big fan of Japanese sweets. Glico is the name of one of the most famous confectionery companies of Japan. It's the company that produces our favorite Pocky, Pretz, and more! While Glico produces ice cream along with their sweets, they also sell ice cream-shaped snacks called Caplico!
This is the most popular among the Caplico series. It's GIANT Caplico! Depending on the location in Japan, GIANT Caplico can come in flavors like apple, melon, matcha, and more! However, the main flavors are chocolate strawberry and crispy crunch. GIANT Caplico is huge, as its name suggests. Here are regular sized Caplico: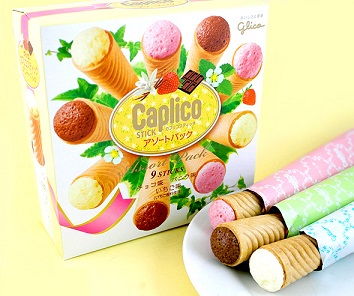 These are the original Caplico sticks. They come in fancy boxes as the one pictured above, with nine sticks included in each box. The flavors are chocolate, strawberry, and vanilla! To put it straight, Caplico are these delicious snacks that are frosting dipped and completed with ice cream cones. There is chocolate filling inside every cone, so you can enjoy your snack until the final bite. Now that you know that there's both a regular and giant size of Caplico, why not check out the mini size?
Japan is very popular for its small, adorable items, right? These mini versions of Caplico are simply adorable, and taste great! They are especially popular with children. While Caplico has been a favorite among many over the years, a new product has reached the market just this year in August:
These are called, カプリコあたま (caplico atama), which means "Caplico heads." They're the sweet, chocolately parts of Caplico without their cones. They come in the shapes of cute hearts and each bite-sized sweet is strawberry chocolate flavor. Are you ready to try these yummy Japanese sweets? We have Caplico up for auction, so bid away while you can!