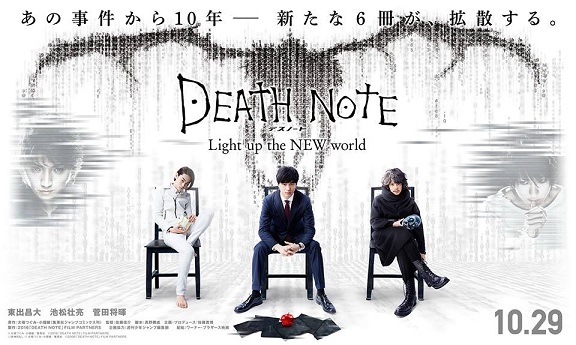 DEATH NOTE - Light up the NEW world
Ten years have passed since Kira's incident...and now six new Death Notes have been scattered across the globe.
Who will be the one to end it all?
From the ever-so popular Death Note series comes the sequel to Death Note 2: The Last Name. We are proud to introduce, "Death Note - Light Up The NEW World!" This film was released this year in October in Japanese theaters and is directed by Shinsuke Sato. It features a star-studded cast and introduces a new plot to the treasured story, which makes it all the more enticing to watch! For any Death Note fan out there, this is a must-watch film!
As you may know, a Death Note is not your ordinary notebook. To match its ominous name and design, this notebook possesses supernatural abilities. The way it works is simple. Whoever has the notebook can write the name of the person they'd like to kill on its pages, and what is written will be executed, hence "Death" note. The original story revolved around two main characters, "Kira" and "L." However, after their deaths, it seemed as though the world who never have to face the troublesome horrors that the Death Notes wreaked ten years ago...until now. Six new Death Notes fell to the earth and found their way to new owners. Whoever collects all six notebooks has the power to control the world. Two sides have emerged to avenge Kira and to avenge L. Who will rise to the top and define the true meaning of justice? What is the new world going to be like? Let's first see the characters this time around and take a look into the story from their angles.
First up we have the actor Sosuke Ikematsu playing as "Ryuzaki." Ryuzaki, an implusive, witty character, is the original successor to "L" and is a private investigator. He wears a funny looking mask to match his personality. He swears to L that he will never use the Death Note and works to investigate on tracking and finding the six Death Notes. Next up we have Masahiro Higashide playing as "Tsukuru Mishima." He is the leader of the Death Note Task Force that persues the six Death Notes released to the world while following the late Soichiro Yagami's footsteps, Light's father. Then we have Masaki Suda who plays "Yuki Shien." In the current world where cyber terrorism occurs left and right, Yuki Shien uses his intelligent to fully play as a cyber-terrorist. He highly worships "Kira" and uses his sharp abilities with technology to track the six Death Notes. Now we have a girl who clearly has one of the Death Notes, Rina Kawaei who plays as the new character "Sakura Aoi." She is known as the most deadly of all Death Note users, being the cause of mass muders across the world. She is also a Kira-worshipper but goes beyond Kira's killer cases. Last but not least we have the actress Erika Toda who plays as "Misa Amane." Misa isn't a new character but rather well known for being Light/Kira's girlfriend as well as a previous Death Note user. She has no memories of the Death Note and in her heart remains but the grief over the death of her boyfriend. With the announcement of retrieving all Death Notes made by Light, she is met with confusion, and more mystery is brought into the plot of this film. With more characters, more notebooks, more Shinigami and more excitement, we have nothing but high hopes for this new film!
At J-Subculture, we have limited edition Death Note film goods, as well as other Death Note goods from the previous films, the manga series, and anime series all up on auction. If you're a fan of Death Note, then these special items will satisfy your love for the series. Don't wait any longer. Take in on the fun and see what we have for you here at J-Subculture!