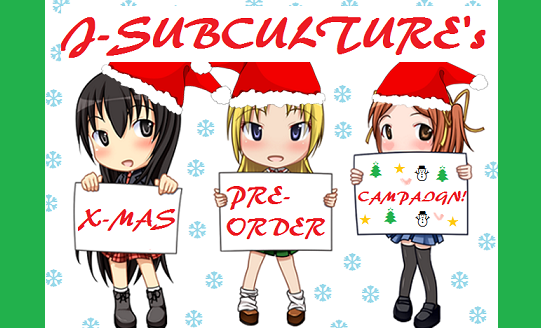 It's practically the end of the first week of December! How has your preparations for the seasonal holidays been going? In this merry and festive time, we'd like to let our valued customers here at J-Subculture know about one of our special campaigns for this month: the X-Mas Pre-Order Campaign (December 24th)! Through this campaign, you have the chance to enter our J-Subculture lottery draw in which the winners can win GIFT POINT VOUCHERS! If you're interested, please continue reading below for details...
X-MAS PRE-ORDER CAMPAIGN FOR DECEMBER 24TH!:
※Eligibility: You can enter the lottery drawing through making pre-order transactions for products that will be released in 2017!
※Conditions: Pre-order transactions must be placed during the time window of November 1st to December 23rd (based on Japanese Standard Time UTC +9) AND have a value of 3000 JYP or more!
※PRIZE: 2 LUCKY WINNERS will receive gift vouchers to their point accounts in the value of 5000 JYP!!
※Important for all campaigns: For smooth participation, please enter the title name of the campaign into the subject header, when contacting us through BBS.
Besides the campaign mentioned above, there are other on-going wonderful campaigns you can still take part in! Join in on the festivities with us here at J-Subculture! (for the original link, please click here: www.j-subculture.com/guides/sub/619)
※ 1% points back on INTL. SHIPPING FARES on: December 6th, 13th, 20th and 27th
※ 2% points back on SHOPPING AGENCY (PROXY) transactions: December 4th, 11th, 18th and 25th (CLICK HERE to access services)
※ 0.5% points back on AUCTION PRICES is available on: December 1st, 8th, 15th, 22nd and 29th (CLICK HERE to access services)
PLEASE keep in mind the following:
※ Orders at J-SUB shop are exempt from the point back campaigns.
※ Wholesale orders are exempt from the point back campaigns.
Winner Anouncement: The winners of our two previous lottery draws have already been decided. Happily announcing our lucky candidates, who are:
'December 4-Digit' Campaign:
FiftXXXXX
duXXX
'The Green Monday' Campaign:
lucymXXXXX
EzXXXX
azXXXX
Stay tuned with our news on the next winner announcement for the Xmas Pre-Order Campaign after December 24th. Maybe it's your next lucky turn, join today!
Sending out our warmest feelings to all our beloved customers here at J-Subculture today. Treat yourself to something special in this merry month of December and be sure to participate in the festivities! ⛄ If you ever have any questions, please don't hestitate to let us know. We are more than happy to be of assistance.
Season's Greetings,
Your J-Subculture Team