"Le Sucre"
is the name of a series of Japanese goods created and designed by Naomi Togasaki. There are many characters who belong to this series. They are all French rabbits that come in pastel, water color hues. Follow these rabbits into a soft, plush world filled to the brim in sugar!
For those who are wondering what "Le Sucre" means, it means "sugar," the perfect name to represent these sweet rabbits. This series of bunny rabbits, dressed in adorable attire, are like sweet candies, soft and fluffy and warm. Le Sucre is so popular in Japan, amongst people of all ages. Here at J-Subculture's auction site, we have a variety of Le Sucre goods to fall in love with. We'll introduce some of these items to you!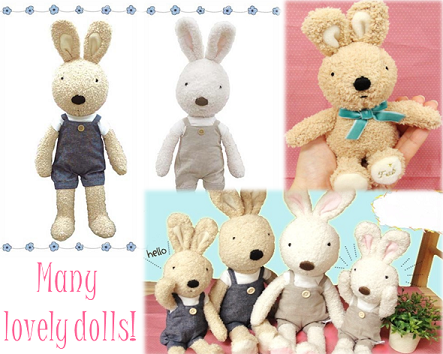 There are Le Sucre dolls that each come in unique clothing. Some wear dresses, while others wear pants. Some even wear different outfits like overalls or outfits that match seasons, like Santa suits! They come in varying sizes too, from sizes that you can carry in your hands to sizes that you can carry in your arms. The colors also vary, from cream white to cotton pink! All these rabbits are plush and soft to the touch. With angel-like faces and simple designs, you'd never want to let go of your furry friend.
There are also Le Sucre themed stationery and dishware! Each design is illustrated and created by Naomi. They feature dainty, colorful designs, like pictures straight out of a children's book! There are many flowers and desserts included in her designs. They will warm your heart each time you use them. These goods are especially popular among school girls and their mothers. If you're interested in these sweet Le Sucre goods, check them out at our auction sites here at J-Subculture! Just scroll below!