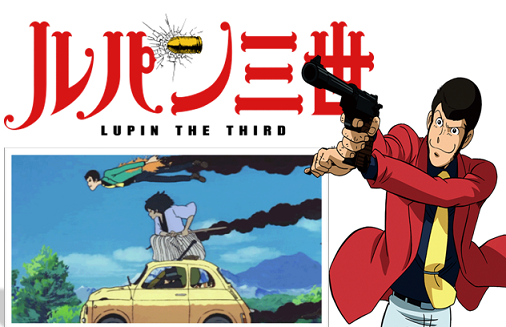 Lupin The Third Cels are up on auction, here at J-Subculture! Don't miss out your chance on all the action!
The great, highly well known series, Lupin The Third, is by Monkey Punch. It was originally a manga series and now has a large collection of animations, games, and more! Anyone would mark Lupin as one of their most favorites. The series is well crafted with a balance of both serious and comical events. Today, at J-Subculture, we're proud to announce that cels of Lupin The Third are avaliable for bidding on, so be as quick as a bullet on this one friends! You're free to scroll directly below for some examples, but first we'd like to describe what "cels" are.
The picture above is an example of a Lupin The Third cel. Cels aren't limited to just this Japanese animation, but other animations as well have applied this method of animating. Even Disney has their fair share of cels. So, what are they? "Cel" is short for the term, "celluloid." Cels are thin, transparent sheets of paper that animators used to draw or paint on to accomplish their traditional, hand-drawn animations. Using cels at this point in time is a scare practice, considering how convenient our time of technology is. That is why the cels kept and stored away from old times are limited edition and highly rare. There are unique cels that are displayed in art exhibitions, and cels collected by people who'd love to keep their favorite animation scenes close to their heart.
We have a vast collection of Lupin The Third cels you can observe here! When you find the one you like, simply bid away! Besides these rare works, you can find other cels too. Just scroll below for our auction site here, at J-Subculture today!