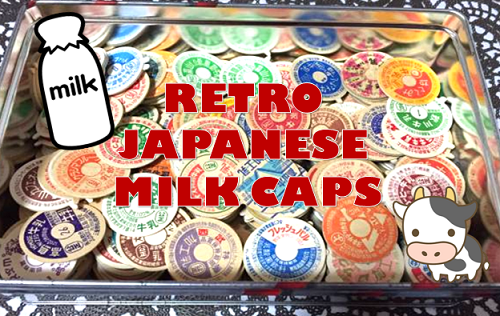 You'll be surprised by the diversity of goods up on our J-Subculture auction site that you can bid on. Online auctions such as ours are quite popular, particularly with collectors of rarities, like coins, stamps, figures, stickers, and so on. You'll be even more surprised when we introduce you to a valuable collector's item that's been hot on the market these days in Japan--
they're retro Japanese milk caps!
There are collectors of paper dolls, collectors of cheese, collectors of Pokemon trading cards... it seems like the list can go on forever. If you are fond of something, by the way it looks, its function, and so on, you might feel the need to start collecting them. For people who collect retro milk caps, they feel nostalgic for the old days. The milk caps were used in Japan as "menko," small, flat cards that are slapped onto the ground to flip over another's. Menko games were popular in the old days among elementary school students. Nowadays, glass milk bottles are hard to find, replaced with paper cartons. And the old milk caps? Forgotten in the waste...or so we thought. You can marvel at the array of colors and designs of retro milk caps thanks to those who've kept them safely, cleaned and dried.
These retro milk caps have gained
enormous popularity
in Japan. Retro-styled items in Japan are a huge hit, especially with modern teens. Within each circular cap, the brand name of the milk and a cute design can be found. By having your own collection, you can use the caps to colorfully decorate your walls, transform them into magnets, and more!
Traditional reds and blue, eye-popping pinks and yellows, little cows and smiling suns...the quirky, retro designs are sure to capture the eye and warm the heart.
Japanese retro milk caps that are intact and in good condition are quite challenging to find, but through J-Subculture's auction site, you can start your own collection today! Don't miss out on your chance to have these hard to find milk caps! Simply scroll down below and relive the glory days.